Actually, make that a 14-time-GRAMMY award winner... 
(This was last year) You all know about my passion for songwriting; It's not just a career to me but a life companion that talks to me and even helps turning any of the tedious, rutinary moments of the day into creative bursts that turn into songs, which may at some point turn into the soundtrack for a relevant stage in my life. This time, I'm literally talking about a stage...none other than the Schermerhorn Symphony Center, home of the Nashville Symphony.
I still recall back in 2020 my reporter friend Veronica called me one day (gasping, as she's always on the move) saying: "Hey Marta, write up a Christmas song... everybody's so tense these days and we all need something that can change the spin we're in"...oh, ok, gotta go, bye!" And, just like that, her moment of daily hustle sparked an idea in my mind that would immediately begin taking shape as I sat in my studio strumming along to the phrases: Feliz Navidad, Feliz Año Nuevo (Merry Christmas, Happy New Year)
But I wondered in my mind, how can I possibly tell people to feel merry and happy when it's been such an unprecedented year? The voice said: If you can find things you're grateful for, then surely you'll see how blessed you are. My baby was born in February of that year, so the list started writing itself and got long pretty quickly:
My beautiful family

Living in Tennessee

My parents and sisters, who, though far (Guatemala and Alabama respectively) have always been close, and cherish life with us

True friends

Hope

Music

Trees
Next thing I knew I was overflowing with gratitude and thought I'd start the song as if I was writing  a Christmas card. It felt really close to me… and the rest is history, Feliz Navidad Feliz Año Nuevo by Marta Albarracin was born!
An early Birthday gift (or was it a Christmas gift in April?)
Both Priscilla (my 12-year-old princess) and I are April girls. Her Birthday is on the 6th and mine's on the 10th. Since this year (2022) hers would fall on a Wednesday, Al (the love of my life) thought it'd be good to take her to The Cheesecake Factory for breakfast the Sunday prior. As we were leaving for breakfast I got an Instagram message from the Nashville Symphony´s Pop Director, Enrico Lopez-Yañez. They were going to play the music of Star Wars and I thought it´d be an awesome surprise to not only get tickets for Priscilla´s birthday but also have a meet and greet with the maestro. Well, turns out he wasn´t conducting that show, however, there was indeed a surprise…but for me! He said he wanted to talk to me about a Christmas song I wrote and he heard it on Instagram!!! Ohhhh goodness! Whatever it is can only be great because just the fact that he scrolled through my songs down to December and cared to talk about Feliz Navidad Feliz Año Nuevo was amazing!!!!
When we met through zoom he told me he loved the song and wanted to see if I´d like to sing it with the Symphony during the Music City Christmas season, December 2022!!!
OHHHHH MYYYY GOOODNESSSS!!! 
Not only has it been my lifelong dream to sing with an Orchestra… to sing MY song! Wow. And if you top it off with the fact that the Nashville Symphony has won 14 Grammy Awards is just mind-blowing. Do you know what kind of validation that is for me as a musician?  Can´t even put it into words!
Well, happy birthday to me! Gracias maestro.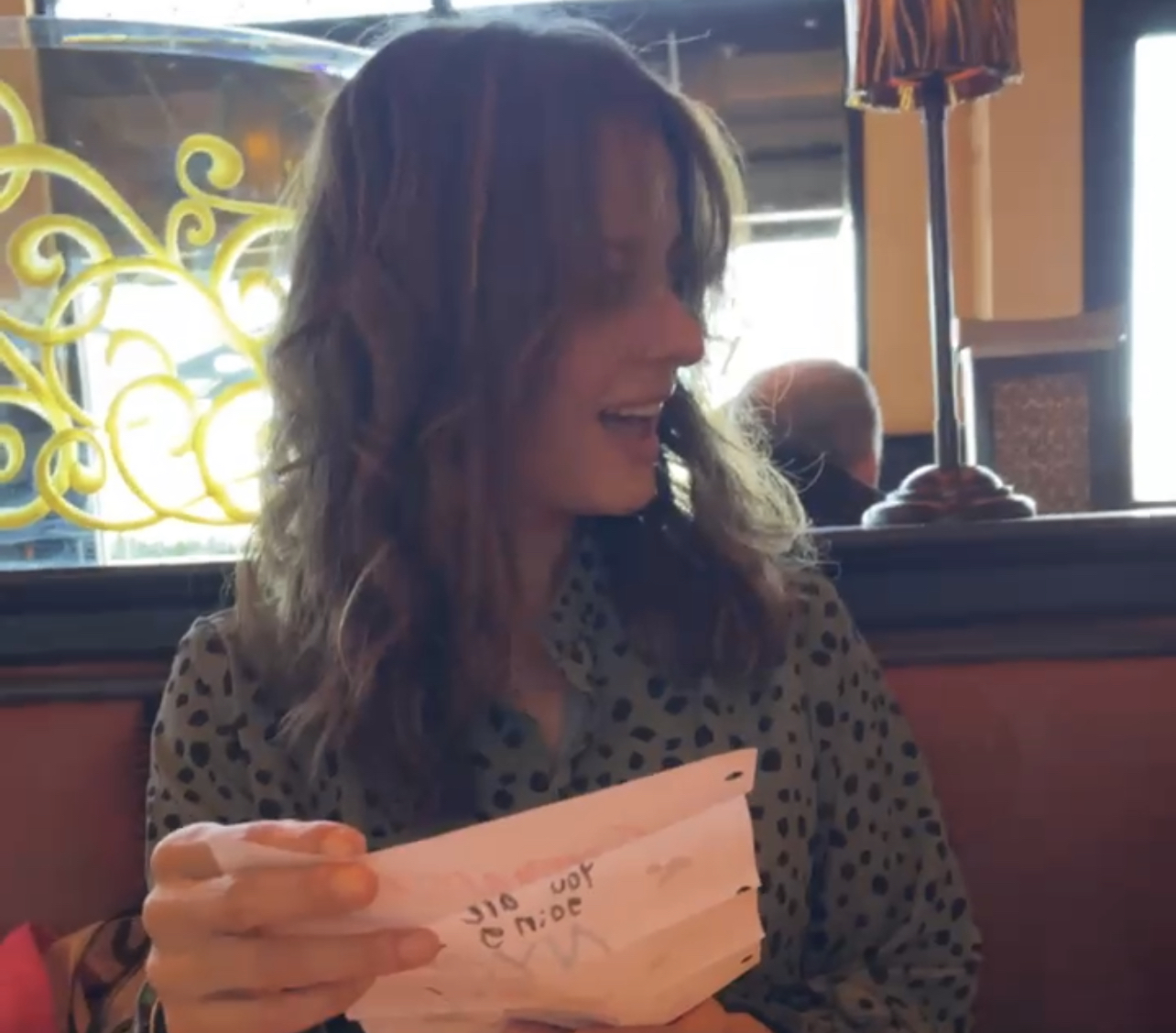 (At Cheescake Factory, after getting interest in my song by the Nashville Symphony…another big surprise was waiting for me in a card given to me by my beloved Alvaro and Priscilla. Will write about that in another post)
*Update: It was last year (2022) that I wrote this but didn´t start a blog till 2023, so, I sang with them and it was AMAZING. I will write about it hopefully soon! here´s the announcement )